So many attractions in the middle of nowhere


Quante attrazioni nel bel mezzo del nulla


Written within La Wayaka Current residency program
Feb - May 2020
Atacama Desert, Cile


Content:
1. Reasonings
2. Possible scenography
3. The musician and the condor tale

Language: italian.
Pages: 24


I'm imagining a serie of empty scenaries, a net of hands weaving or cooking, circular gestures, ladles mixing the primordial soup, containers to contain, stories to tell stories, landscapes made by music to mix the "here" with the "there".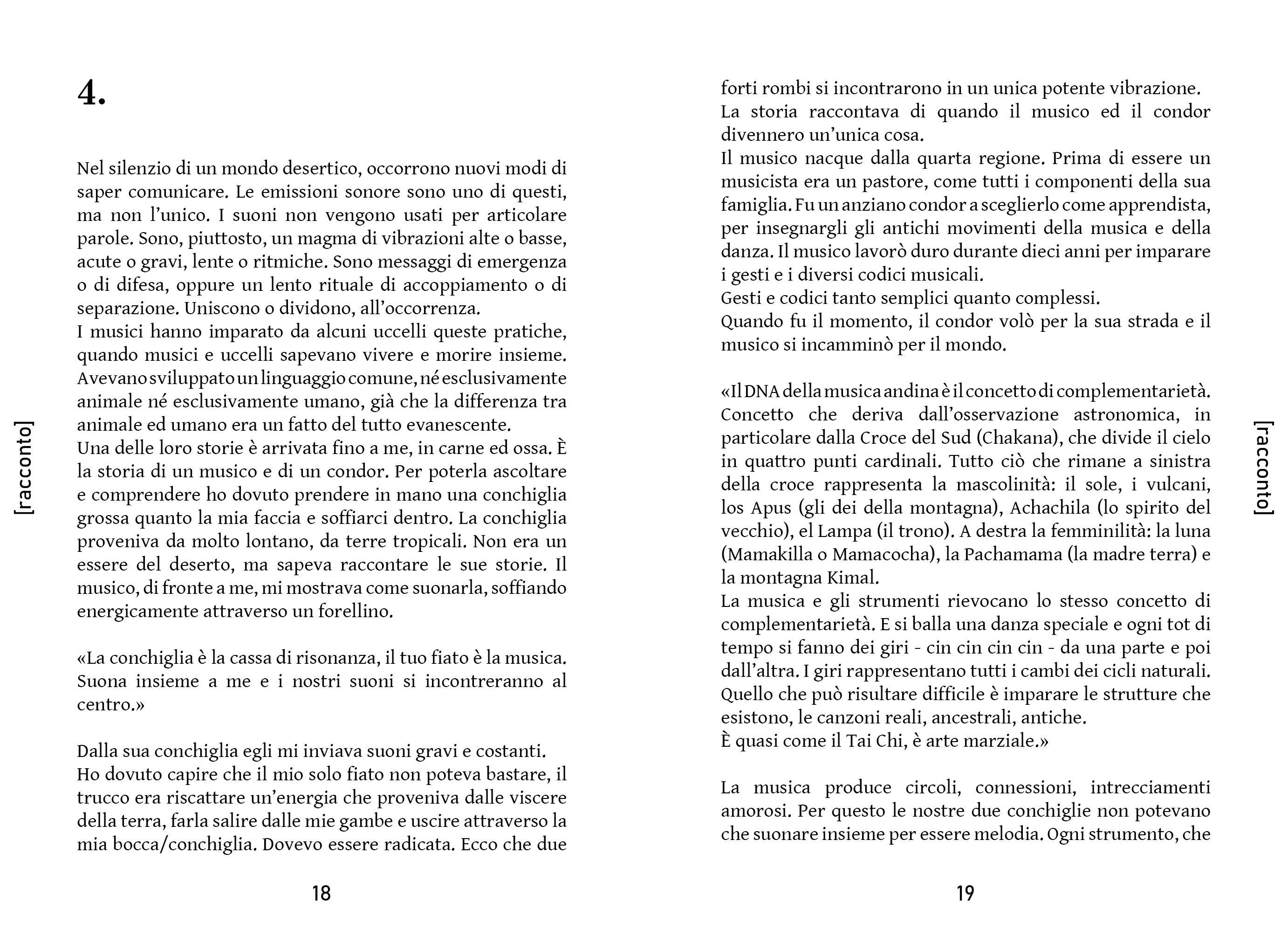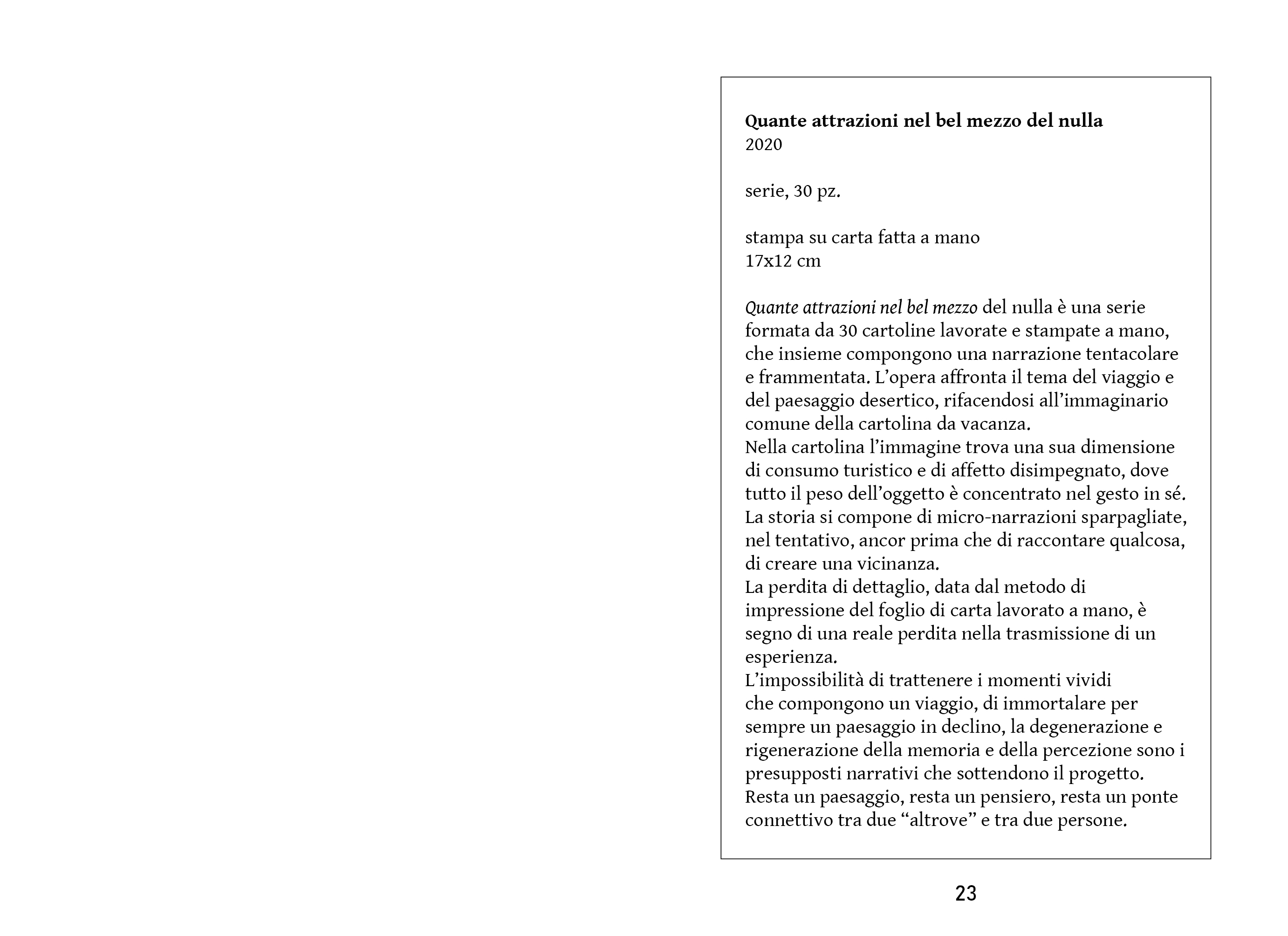 love love


AMORE AMORE

Written within Can Serrat writing residency program.
Jan 2020 El Bruc, Barcelona, ES


C ontent:
love letters, e-mails, message, drawings, scans.

Language: italian
Pages: 40


Then, while I was fliyng from Milan to Barcelona, with a confused but strong love relationship on my back, I had the clear sensation that I could not exclude what was happening to me from my work as an artist. The uncertainty, the fear, the love for someone and all my personal daily vicissitudes are and will alway be the starting point
of my whole reasoning.

things like that
cose così
Frammenti di un discorso sull'attesa.
Venice, 2019.
Nominated for the
Fondazione Grenfellove Prize 2019
, for the best Visual Art Master Thesis.
Content:
1. The wait
2. Fragments
3. The fireflyes
Language: italian
Pages: 133
When we wait, in some human way, to wait involves our desires, goals, and needs: normally, when we wait we wait for something. Further than this, there is a sense in which we can wait without knowing for what we wait. We may wait, in this sense, without waiting for anything.
This thesis wants to be a personal vocabulary on the act of waiting, a private recording of my deepest wonderings and a light reasoning on the contemporary (art) suspended condition.
30 € (self-producted) - To have your copy please contact me

I was you and I never knew it


Yo era tu y nunca lo supe


Bogotà, 2017
Content:
drawings and collage on paper, text
Language: english (avaiable also in italian and spanish)

Pages: 12


The body is a map, a store of events, a perceived image, splitted between being and awareness of being, effect of the social mirror. Trough the others we take care of create idols, perpetuate styles, wear symbols, enacting meanings that comes from ages of iconographic constructions; those define our way to relate ourselves to reality.
Nothing seem to happen in the "real"world, if it does not appear in our minds as an image.
Sailing trough memories, the text ponits out how my body was influenced and defined by the visual since I was a baby. Which images it tries to looks like, which models does it conciously or inconciously emulate, how does it struggle to became feminine?
The text come with six drawings and collages imagining analternative iconography.